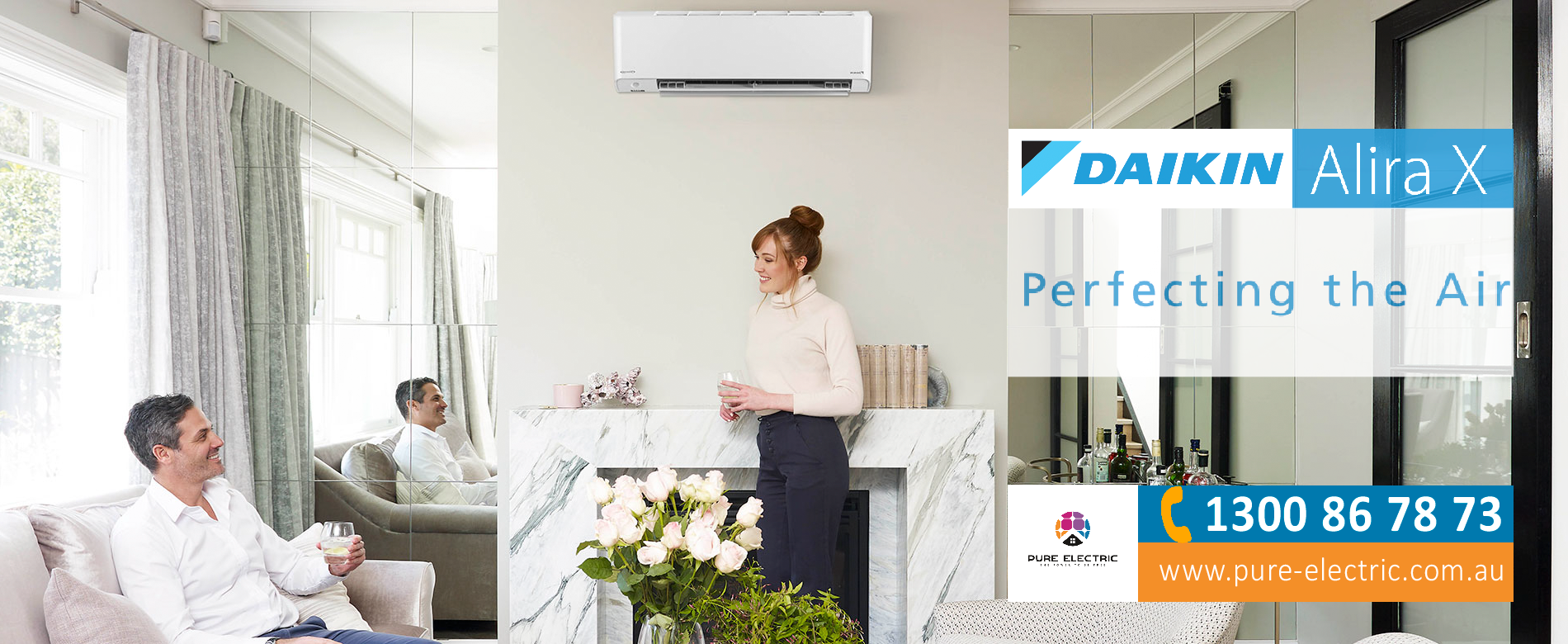 Daikin Alira X
Daikin Alira X is a step ahead of the rest, delivering a perfect fusion of whisper quiet comfort, industry leading energy efficiency and indoor air quality technology.
Available in:
+ Reverse Cycle (Heating or Cooling)
+ Cooling Only
Capacities:
+ Reverse Cycle: 2.2kW, 2.5kW, 3.5kW, 4.6kW, 5.0kW, 6.0kW, 7.1kW
+ Cooling Only: 2.2kW, 2.5kW, 3.5kW, 4.6kW, 5.0kW, 6.0kW, 7.1kW
Refrigerant: R32

Key Features - Daikin Alira X
It's the unique features of Daikin products that makes us the world leader.
Perfect fusion
New R32 Alira X is a perfect blend of progressive design aesthetic, superior energy performance & indoor air quality technology.
Advanced purification
Each model is fitted with three layers of filtration, prefilter for large particulates, enzyme blue deodorising filter for odours and Daikin's Streamer Technology for powerful oxidative decomposition of pollutants.
Built-in WI-FI
The Wireless LAN module for connection to Daikin's Mobile Controller smartphone interface is now conveniently included inside the casing of the indoor unit.
Mould-proof operation
Activates after cooling or dry operation to prevent the build up of mould and odour.*
Intelligent comfort
The 2-Area Intelligent Eye** is so clever it can now either direct airflow towards you or away from you for draught free comfort. If the room is unoccupied the unit will automatically enable energy saving operations.
Coanda airflow
Discharge louvres are specially designed to stream air upwards along the ceiling for longer throws and delivering rapid cooling and even temperature distribution in the occupied space.
Streamer Technology - The Three C's
1. Clash: Decomposes harmful substances trapped by the High Efficiency Particulate Filter.
2. Cycle:  Maintains the deodorising filter's deodorising capacity by assisting odour decomposition.
3. Clean: Removes bacteria from all filters allowing them to be maintenance free and increasing filter longevity.

The secret to high performance air purification is Daikin's Streamer Technology. This innovative technology features a high-power plasma discharge that generates high-speed electrons to decompose harmful substances.
This powerful oxidative decomposition process continuously removes odours, bacteria and indoor air pollutants, such as formaldehyde, for superior air purification.Warranty
Technical Specifications - Daikin Alira X
Indoor Unit

FTXM20WVMA

FTXM25WVMA

FTXM35WVMA

FTXM46WVMA

FTXM50WVMA

FTXM60WVMA

FTXM71WVMA

Outdoor Unit

RXM20WVMA

RXM25WVMA

RXM35WVMA

RXM46WVMA

RXM50WVMA

RXM60WVMA

RXM71WVMA

Rated Capacity

Cool (kW)

2.2

2.5

3.5

4.6

5

6

7.1

Heat (kW)

2.7

3.2

3.7

4.7

6

7.2

8

Capacity Range

Cool (kW)

1.1-2.8

1.1-3.7

1.1-4.2

0.9-5.5

1.1-6.7

1.1-7.5

2.0-8.9

Heat (kW)

1.1-4.4

1.1-5.4

1.1-5.5

1.0-6.7

1.0-8.0

1.0-9.8

2.0-10.8

Indoor Airflow Rate (H)

Cool (l/s)

228

242

242

253

342

395

410

Heat (l/s)

223

223

242

250

342

395

410

Indoor Fan Speeds

5 steps, quiet and automatic

Star Rating (Hot/Avg/Cold)
ZERL (Residential)

Cool

6/5.5/5.5

6/5.5/6

5/5/5

4.5/4/4.5

5.5/5/5

4.5/4.5/5

4/3/3.5

Heat

3.5/3.5/3

4/3.5/3

3.5/3.5/3

4/3.5/3

4/3.5/3

4/3/2.5

3.5/3/2.5

Front Panel Colour

White

Power Supply

1 phase, 220-240V, 50Hz

Power Input (Rated)

Cool (kW)

0.42

0.47

0.8

1.17

1.13

1.48

2

Heat (kW)

0.5

0.64

0.76

1.04

1.23

1.61

1.96

E.E.R/C.O.P

Cool/Heat

5.30/5.40

5.38/5.00

4.38/4.89

3.95/4.52

4.42/4.88

4.05/4.47

3.55/4.08

TCSPF (Residential)

Hot/Avg/Cold

7.87/7.15/7.39

7.95/7.29/7.55

6.98/6.61/6.96

6.09/5.71/6.06

7.00/6.56/6.99

6.49/6.11/6.55

5.50/4.87/5.07

HSPF (Residential)

Hot/Avg/Cold

5.34/5.13/4.76

5.50/5.12/4.71

5.44/5.02/4.50

5.61/5.03/4.52

5.84/5.25/4.60

5.50/4.90/4.26

5.10/4.54/4.00

A.E.E.R/A.C.O.P

Cool/Heat

5.25/5.36

5.33/4.97

4.36/4.86

3.94/4.50

4.41/4.86

4.04/4.46

3.54/4.07

Dimensions (HxWxD)

Indoor (mm)

299x920x275

299x1100x275

Outdoor (mm)

550x675x284

695x930x350

Weight

Indoor (kg)

13

13

13

13

15

15

15

Outdoor (kg)

28

30

30

51

54

54

60

Compressor Type

Hermetically Sealed Swing Type

Refrigerant Type

R32

Max Pipe Length

(m)

20

20

20

30

30

30

30

Max Level Difference

(m)

15

15

15

20

20

20

20

Pipe Sizes

Liquid (mm)

6.4

6.4

6.4

6.4

6.4

6.4

6.4

Outdoor Operating Range

Gas (mm)

9.5

9.5

9.5

12.7

12.7

12.7

15.9

Cool (°CDB)

-10 to 46

Indoor Sound Level (H/SL)

Heat (°CWB)

-15 to 18

Cool (dBA)

39/19

41/19

42/19

43/26

45/28

48/29

49/30

 

Heat (dBA)

39/20

40/20

42/20

43/26

45/28

48/29

49/30

Outdoor Sound Level (H/SL)

Cool (dBA)

46/43

47/43

49/44

47/44

47/44

49/45

53/49

Heat (dBA)

47/44

48/44

49/45

48/45

48/45

52/45

54/49

Outdoor EPA Sound Power
 Level (H)

Cool (dBA)

58

59

61

59

59

61

65

Heat (dBA)

59

60

61

60

60

64

66