When an error occurs, a red LED on the operation panel turns on and an error code is displayed on the LED display.
The panel does not turn to the display sleep mode while the error code is shown.
Covering model numbers for residence: 
GAUS-160FQS
GAUS-250FQS
GAUS-300FQS
GAUS-315FQS
GAUS-315FQV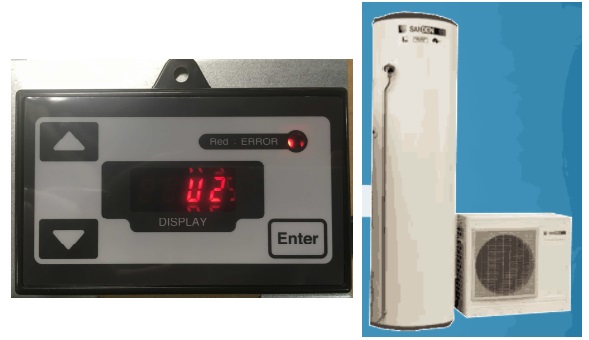 Below is the list of the error codes. If the corrective action does not solve the error problem, a malfunction of the PCB is highly likely.
Error

code

Error

contents

Error

code

Error contents

H9

HP ambient

temperature thermistor

error

FS

Communication error between main

PCB

to control

PCB

HC

HP

water

out

l

et temperature thermistor error

E8

High inlet current error

J3

HP discharge temperature thermistor error

H8

Current error

JS

HP suction temperature thermistor error

L4

High

temperature of module error

J6

HP Heat exchanger temperature thermistor error

LS

High

out

l

et current error

J8

HP water inlet temperature thermistor error

P4

Module

temperature

thermistor error

H7

Tank

temperature thermistor error

U2

High

voltage error

E6

Compressor booting error

HJ

Water

circuit error

H6

Compressor revolution error

EC

High

water out

l

et error

uo

Refrigerant leakage error

E9

Water

pump error

E1

Main

PCB error

E7

Fan motor locked

E2 L7

Contro

l

PCB error

F3

Discharged temperature error
If you have any question about the Sanden Eco® PLUS Hot Water Heat Pump System which is not listed in our FAQ, please don't hesitate to email us info@pure-electric.com.au and we'll find the answer for you.