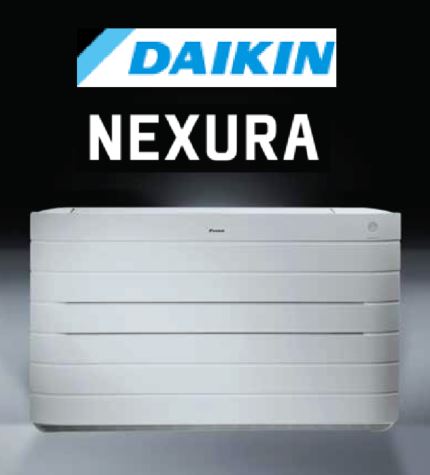 The Daikin Nexura - Highest efficiency radiant heating heat pump available in Australia. 500%+ more efficient than hydronic radiant heating and you get cooling too!!
European designed and manufactured floor standing heat pump that is quiet, discrete and features state-of-the-art heating technology from its unique front radiant heat panel
More efficient than hydronic and better overall.
Advantages include:
No 20% average losses on hydronic hot water heating loop.
Superior zoning
Low thermal inertia compared to hydronic so you don't need to run the system 24 hours
Redundancy 4 or 5 units distributed around operate independently
Less energy and less running costs
Standard servicing - much cheaper to service than conventional hydronic
Seriously efficient cooling available from the same units; if you get hydronic, heating, you'll need to spend more money for cooling!
Utilise renewable ambient heat to provide you with high efficiency radiant heat
No more water loops to worry about as opposed to hydronic heating which is inefficient and costly to run
European Designed and Manufactured
Radiant Mode - At the touch of a button, Nexura's aluminium front panel warms up just like a traditional radiator. The result is a comfortable feeling of warm air that envelopes you with a quieter heating experience
Air Purification - Fitted with a titanium apatite deodorising air purification filter that traps microscopic particles, decomposes odours and even deactivates bacteries